People may be drowning in information in today's digital era, yet they are still starving for knowledge, thanks to the massive volume of data available on the internet. It's challenging to keep up with the daily influx of billions of articles on the internet.
Is there a way to process knowledge more efficiently in this situation without increasing the time spent reading? Text summarizing tools may be helpful.
By identifying critical points in the document, these automated tools help users to make sense of vast amounts of text-based information. Furthermore, some of these systems' algorithms can provide proofreading of these summaries, empowering users to spend their time more productively.
Artificial Intelligence (AI) has become a necessary component of ever-improving technology. The way we think about software has changed entirely due to AI. Text summarization automation is also a significant step.
With the growing need for online text data, it was critical to introduce this technology. So, here we are discussing the 7 best Text Summarization tools to help writers write their content efficiently.
7 Best Text Summarization Tools
Summaries are pretty helpful when you need to quickly understand a subject, the latest news, or any other topics without bothering to read the entire text. These key points give us the most valuable information about the subject.
You can use summarizing tools to help you summarize the information. But first, you need to learn what these tools are and why you need them?
What are Text Summarizing Tools?
A summary generator is a tool that can automatically create a summary of any document. Most summary generators are usually free. You can simply upload some text and easily get a shortened version of it.
One can save time and money by operating an online summary tool that offers results immediately.
What is the Purpose of using a summarizer?
Keep the main points in mind:
The most significant article summarizers keep the critical ideas of any content while cutting the irrelevant data. It is an excellent method to obtain the most vital information out of articles without actually reading them all.
The summarizer tool can help you improve your reading and writing performance. They serve with the shrinking of articles or other content, making it easier to read and comprehend.
Summarizers also help improve writing by offering a summary of a text's key themes, which may then be used to generate more detailed and well-rounded writing.
The best online summarizer can help you get involved by delivering short and accurate summaries of the articles you need to review.
Premium summarizers produce comprehensive and well-written summaries in just a few minutes, making them perfect for whenever you need complete details on the spot.
Many free AI summarizers claim to provide instant summaries in under a minute, yet they often produce rough and fragmented summaries.
Summarizingtool.net is an easy-to-use, ad-free program that allows you to create rapid and accurate summaries from any of the items on our list.
By cutting the number of words in your article, you may be able to save time for research and work more efficiently.
The summary creator shows you how much time you save by decreasing your reading time and other valuable information. The tool in your browser analyzes texts of different lengths, including huge PDF articles.
This software is excellent for people who don't have time to read long magazines or articles on the internet and for content writers who are asked to bring new content every single day.
Only 7% of the original article's content remains in the summarized version. However, you cannot upload a file or save the results with this tool.
Editpad.org is an excellent tool for anyone who needs a quick summary of many texts. This software is free, and there is no need to log in. It has several features that are beneficial as a summarizing tool.
This tool excels at summarizing information. It's quick, and the final summary is exciting and entertaining.
The final result is written and grammatically correct. However, this program does not end there. Let's have a look at what makes it so unique.
Features:
Uploading of files is permitted.
The original text's word limit.
There is always an integrated plagiarism checker and paraphraser for the summary text.
Bullets or paragraphs are used to present the results.
Enable you to copy and download the final result.
3. Helpfulpapers: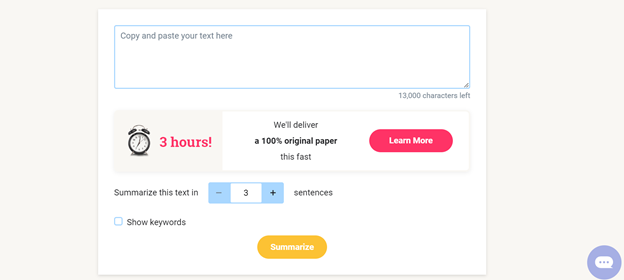 Helpfulpapers provide a free summarizing tool. It is only one of the academic writing services they provide. The tool is entirely free to use and requires no prior registration.
It allows for direct text copy/paste, but it does not allow uploading files. This tool has some solid summarizing skills. The compressed writing is simple and easy to understand.
There are some limitations, such as the 13,000 character restriction; however, free programs typically have drawbacks.
You may also like: How Technology Today Has Changed Traditional Jobs
The following are some of the tool's most prominent features.
Features:
You can copy the results.
Display the keywords of the summarized text.
You can reduce the summary to a certain number of sentences.
It reveals the number of words and characters before and after summarizing.
4. SummarizeBot:
SummarizerBot is yet another outstanding text summarizer available online.
The software combines cutting-edge AI technology, natural language processing, algorithms, and blockchain technology to offer a better version of the information by condensing it.
Students, entrepreneurs, copywriters, content creators, organizations, researchers, and others can benefit from SummarizeBot.
This text summarizer works with many languages, including English, Spanish, Chinese, French, Russian, Portuguese, Japanese, German, Arabic, and others.
It also allows you to summarise data from various file formats, including pdf, docs, txt, jpg, etc.
Summarize Bot may also fetch and compress data from any online link.
5. SMMRY:
SMMRY is a tool that condenses an article in TXT or PDF format into the most critical sentences within only 7 seconds. Its core algorithm excludes transition words, irrelevant phrases, and extreme examples to provide readers with a topic-focused summary.
Reddit's Auto TLDR bot also uses SMMRY to create short summaries of long Reddit articles by adopting the list of recommended guidelines.
6. Summarizer.org: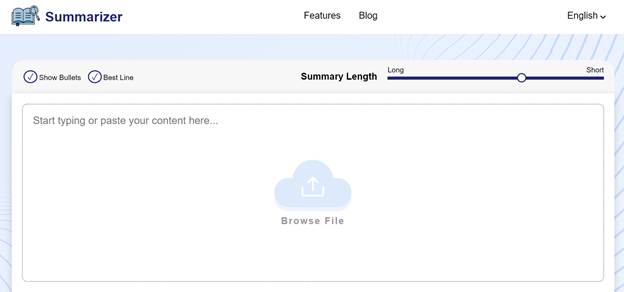 Summarizer.org is a simple summary generator that you can use for your academic and professional needs in your spare time.
There is no need to subscribe to the program because it is entirely free. Though, a slew of ads around the web page can divert your attention.
The tool is simple, with only two keys: one for summarizing the document and another for clearing the data area.
Based on the content you enter, this summary tool will generate a summary of your content. You don't need to form an account to get your document shrunk.
You can use the tool to reduce large sections of information from research papers or other publications into a concise format.
7. Simplifly:
Simplifly is another approach to summarizing a scientific article and blog posts for research purposes and content writing. Download the free Chrome extension, browse the page, and you'll get a summary.
This software has no ads, no registration requirements, and character limits. It works well with online articles and news sites but not PDF documents or academic journals. You can't change, upload, or summarize a document or any other file.
Conclusion:
Being concise while still presenting essentials is a more vital talent today than ever before, especially when people are ready to give you their money but not their time.
Understand how to summarize information so that you can make the most of both their and your time.
You can summarize your long content using any online summarizing tools or use these mentioned tools.